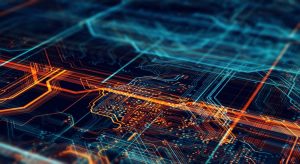 We are hosting our annual forum on Thursday, 11th October in Tyndall National Institute. The centre is  on a scaling trajectory having grown our funding from a base from a core grant of €1 million,  we grew our research funding a further €6.5 million through our industry members and our funding partners.
To mark our success the theme for this year's event is Realising Big Ambitions where we will present how our research is pivotal to current global technology trends as microelectronics is a key enabling technology that powers the major ICT trends globally.
We will bring together leading experts from industry as well as our senior research leaders to examine a range of topics on how we enable the microelectronics industry to deliver research and innovation with ease. It is essential for Ireland's competitiveness that we continue to drive research and innovation in the area of microelectronics and semiconductors.
We are delighted that our forum will bring together keynote speakers from industry to discuss how we will continue to enable companies to realise their growth ambitions through our research excellence.
Register Here 
Agenda 
9.30
Registration Opens
10.30
Donnacha O'Riordan, Executive Director MCCI
10.45
Donal Sullivan, VP & GM Johnson Controls
11.00
William Scanlon ,CEO Tyndall National Institute
11.15
Declan Kidney, Director Of Rugby London Irish
11.45
Coffee Break
12.00
Kevin Coffey MD Munster Cattle Breeding Group
12.30
Ivan O'Connell - Principal Investigator, MCCI & Tyndall National Institute
13.00
Lunch
14.00
Ronald Dekker, Principal Scientist, Philips Research & Technical University of Delft
14.30
Padraig Cantillon-Murphy Principal Investigator, MCCI & University College Cork
15.00
Philip Harris, Group Leader, Embedded Systems & Networking United Technologies Research Centre
15.30
Emanuel Popovici Principal Investigator, MCCI & University College Cork
16.00


Coffee Break
16.15
Jeff Walling , Professor Electrical Engineering, University of Utah
16.45
Bogdan Staszewski, Principal Investigator, MCCI & University College Dublin

Krzysztof Pomorski – Research Associate, University College Dublin

17.15
Best Poster Award
Closing Remarks

17.30
Evening Reception & Networking at The River Lee