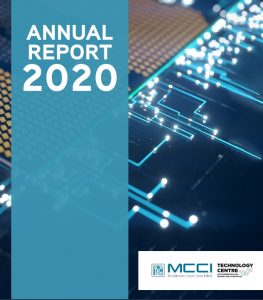 MCCI released its 2020 Annual Report, highlighting the world-class research that is undertaken by the centre.
Enterprise Ireland and IDA are investing significant funding and resources into MCCI, recently approving a further €10M funding over the next five years to 2025. This investment, coupled with competitively won funding from industry and Europe (Horizon 2020) brings the total to €9M per anum of funding for microelectronic circuit research. It is recognised that MCCI gives existing indigenous companies a large competitive advantage as well as helping in the creation of new start-up companies. The end result being an increase to indigenous employment and export revenue. MCCI has become the de-facto conduit for IDA clients entering the Irish microelectronics system, and we are very encouraged by the number of semiconductor companies establishing or expanding their circuit design R&D operations in Ireland.
The strategic focus of MCCI's research programme is "application driven" or "application informed" research, with the objective of enabling new applications and technologies in a number of key areas which have been identified in the national development plan as being of strategic national importance.
Based at Tyndall National Institute and funded by Enterprise Ireland and the IDA, MCCI was founded to deliver high impact research for the semiconductor industry and to generate high impact innovative technology.   The MCCI Annual Report 2020 shows that the centre is an exemplar for research centres in Ireland and Europe.
Read the full report here to discover all our research achievements and industry successes in 2020.