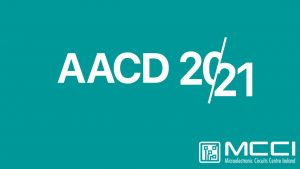 We're delighted to announce that we will host the 29th Advances in Analog Circuit Design Workshop workshop from 22nd – 30th March.
The event had to be postponed in 2020 due to the Covid – 19 pandemic, so we're excited that we can bring AACD 2021 online to a global audience this year.
 AACD 2021 will bring together experts from around the world who are working at the frontiers of analog circuit design. We have a fantastic line up of speakers which we will announce over the coming days. Big news this year is that access to all of the sessions will be free, but ticketed.
Register here 
Save the dates in your diaries for what promises to be an insightful and engaging 6 days.
Session One
Analog Circuits for Machine Learning 
Chairman: Kofi Makinwa
Monday, March 22nd 
Time: 15:00  to 17:00 CET
Session Two
Analog Circuits for Machine Learning
Chairman: Kofi Makinwa
Tuesday, March 23rd
Time: 15:00  to 17:00 CET
Session Three 
Current, Voltage and Temperature Sensors 
Chairman: Andrea Baschirotto
Thursday, March 25th 
Time: 15:00  to 17:00 CET

Session Four
Current, Voltage and Temperature Sensors 
Chairman: Andrea Baschirotto
Friday,March 26th  
Time: 15:00  to 17:00 CET

Session Five
High-Speed Communication – Session 5
Chairman: Pieter Harpe
Monday March 29th
15:00 – 17:00 CEST

Session Six
High-Speed Communication 
Chairman: Pieter Harpe
Tuesday, March 30th 
15:00 – 17:00 CEST
Registration will open soon, for further information please email info@mcci.ie