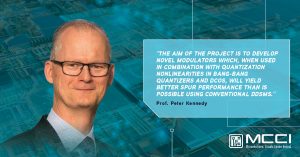 The aim of the project is to develop novel modulators which, when used in combination with quantization nonlinearities in bang-bang quantizers and DCOs, will yield better spur performance than is possible using conventional DDSMs.The Big Idea is to exploit our understanding of the interaction between the statistics of modulators and loop nonlinearities that give rise to excess phase noise and spurs, our leadership in PMR, and our patent(s). We will address two specific areas for improvement: designing (i) an alternative to a MASH to implement fractional-N division and (ii) a high-speed
Many MCCI companies have an interest in PLLs. Most are currently using CP-PLLs. It is important to keep abreast of rapid developments in BB-PLLs and, if possible, to gain a competitive advantage by exploiting PMR.
The project explores ideas at architectural level and will necessarily neglect many practical implementation issues. Assuming the expected improvements in performance are achieved, the next steps will be to move to circuit level simulations and then to implement integrated circuit demonstrators in partnership with MCCI companies.
This project was allocated funding following the MCCI call for proposals for research into innovative future technology solutions in the area of microelectronics. The centre awarded over €5 million in funding to eight MCCI researchers for research into deeptech microelectronic solutions such as beyond 5G wireless communications, implantable biomedical devices, IoT, space and satellite electronics, and sustainable electronics.
To find out more please click here