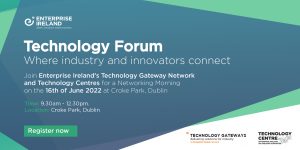 Enterprise Ireland's 'Technology Forum -Where Industry and Innovators Connect' took place yesterday on 16th of June 2022 at Croke Park, Dublin.
MCCI had a successful day at the event where they were able to meet companies and discuss our research technology road map.
The theme of the event was sustainability. As companies strive towards a low carbon future, many are thinking about developing, and investing in sustainable products, processes or services. Technology Gateways and Centres can assist in creating an environment of Research, Development and innovation for companies and projects of all shapes and sizes. 
Presentations were given by  a number of companies who have collaborated with the Technology Gateways and Centres to utilise their expertise available within our host Universities, Technological Universities and Institutes of Technology.